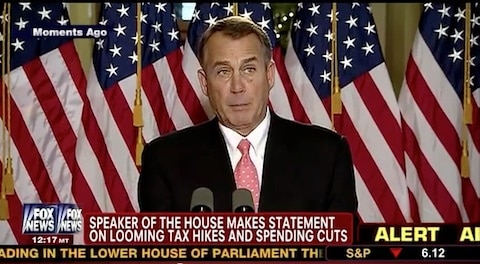 Here's today's "fiscal cliff" face-off.
John Boehner held a 30-second press conference this afternoon, saber-rattling at Obama's morning press conference in which the President said he'd gone far enough in compromising and Republicans should meet him on it.
Then, less than two hours after the president's plea for compromise, John Boehner essentially offered up his middle finger in response, saying that on Thursday, House Republicans will pass his "Plan B" to extend Bush tax cuts for everyone earning up to $1 million per year and that if President Obama refuses to support it, he "will be responsible for the biggest tax increase in American history."
And, according to polls, most folks will blame Republicans if a deal fails.
Watch, AFTER THE JUMP…