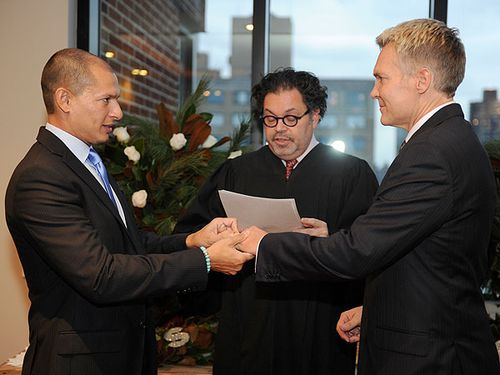 Sam Champion and Rubem Robierb made it official yesterday in the Big Apple.
People magazine reports that the Good Morning America weatherman and his photographer beau kept it short and sweet: a ten-minute ceremony with friends and family at their apartment. The men will also have a ceremony on New Year's Eve in Miami, where they met.
"That's going to be the big party," [Champion] said. "This is the legal
moment that we wanted to celebrate with friends and family and loved
ones."

The couple couldn't be more excited to make it official. "Rubem said it
best. It's the societal affirmation of our relationship. We feel like
it's the most important relationship in our lives, and so to be able to
share that with the people we love and have it legitimized in that way
is really profound. It's not something we take lightly at all."

"It's a shame we can't officially have a legal ceremony in
Florida," added Champion. "We're not separating them, because we'd like
to do it twice. New York it will be legal. Miami will be the spiritual
side to celebrate with the people who have been with us and supporting
us and been a part of our lives since we met. We want to celebrate with
them."
Long out in New York City, Champion came out publicly when he announced his engagement in October.