Yesterday I reported that U.S. District Court William Shubb placed a block on California's recently passed SB 1172, which bans harmful "ex-gay" therapy for minors but has limited his order to three people — "psychiatrist Anthony Duk, marriage and family therapist Donald Welch, and Aaron Bitzer, a former patient who is studying to become a counselor who specializes in clients who are unhappy being gay" — until a trial can be held on the merits of their challenge.
Shubb ruled that the "First Amendment rights of psychiatrists, psychologists and other mental health professionals who engage in 'reparative' or 'conversion' therapy outweigh concern that the practice poses a danger to young people."
Another ruling came the same day, which I didn't report on.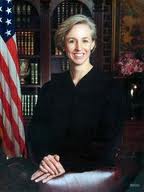 Chris Geidner at Buzzfeed explains:
On Tuesday, however, Judge Kimberly Mueller, an Obama appointee, reached the opposite conclusion, finding that "Plaintiff therapists are not likely to prevail on the merits on their First Amendment claim."
The reasoning, primarily, revolved around what standard the court should use to resolve the claim, whether speech or conduct (or expressive conduct, which is a type of conduct that is intended to convey a message) was at issue. If speech is involved, "strict scrutiny" is applied and the state must show a compelling reason for regulating that speech.
In concluding that the plaintiffs were bringing a legitimate First Amendment claim, Shubb examined the law, shortened to "SOCE," and found "[w]hen applied to SOCE performed through 'talk therapy,' [the law] will give rise to disciplinary action solely on the basis of what the mental health provider says or the message he or she conveys."
Mueller, however, found that not only was speech not involved but that "the provision of healthcare and other forms of treatment is not expressive conduct." Specifically, she decided that the plaintiff therapists "have not shown that the treatment, the end product of which is a change of behavior, is expressive conduct entitled to First Amendment protection."
The rulings — and the appeal to the Ninth Circuit — were only in relation to requests for preliminary injunctions halting the enforcement of the new law while the underlying lawsuits can proceed.
More at Buzzfeed…
Said NCLR's Kate Kendell following Tuesday's ruling: "We are confident the courts will continue to uphold this life-saving law, which simply requires licensed mental health practitioners to follow professional standards and to refrain from using practices that have no basis in science or medicine."