The U.S. Senate's most senior member, Daniel Inouye (D-HI) died today of respiratory complications at the age of 88, USA Today reports: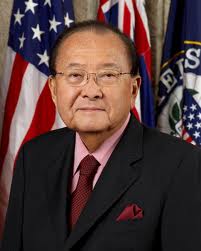 Senate Majority Leader Harry Reid, D-Nev., announced the news of Inouye's death on the Senate floor, sparking a round of tributes for the man Reid called "a giant of the Senate." Minority Leader Mitch McConnell, R-Ky., hailed Inouye's service and his reserve as a mark of "men who lead by example and expect nothing in return."
Under Hawaii law, Democratic Gov. Neil Abercrombie will appoint a successor to Inouye until a special election can be held.
The NYT adds:
Inouye was a World War II hero and Medal of Honor winner who lost an arm to a German hand grenade during a battle in Italy. He became the first Japanese-American to serve in Congress, when he was elected to the House in 1959, the year Hawaii became a state. He won election to the Senate three years later and served there longer than anyone in American history except Robert Byrd of West Virginia, who died in 2010 after 51 years in the Senate.
One of 14 senators to vote against DOMA in 1996, Inouye also voted against a federal marriage amendment and voted for hate crimes legislation, and sponsored both ENDA and the Student Non-Discrimination Act. He was a strong supporter of the repeal of "Don't Ask, Don't Tell".
Inouye's last word was "aloha".
RIP.