2013 BAFTA Awards announced: the full list.

Gay man reportedly stoned to death in Cameroon.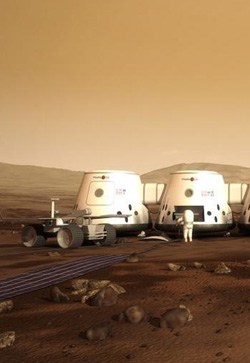 You can now apply to be a Mars colony pioneer. "The Netherlands-based nonprofit Mars One, which hopes to put the first boots on the Red Planet in 2023, released its basic astronaut requirements on Jan. 8, setting the stage for a televised global selection process that will begin later this year."

An extra on Magic Mike tried to finger Matthew McConaughey.

North Dakota's first openly gay state lawmaker, Democratic Rep. Joshua Boschee, profiled by AP: "I think it means a lot that Josh was judged by his constituents based on his ideas, based on his policies and his work ethic, rather than his sexual orientation," [Democrat Mac Schneider, the Senate minority leader] said. "I think most people even in North Dakota could (not) care less about how people spend their private moments. What they want is someone who is thoughtful, compassionate and effective at what they do here in Bismarck."

Lance Armstrong to appear on Oprah next week.

Guess how many people have been killed in the U.S. by gun violence since the Newtown shooting?

Garrett Hedlund peers out from the cover of Details.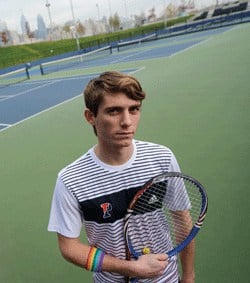 Penn Gazette profiles gay student athlete leaders.

A new book about Scientology and Tom Cruise describes close relationship with David Miscavige:
"This is the best part of it all: the Cruise-Miscavige subtext.
Miscavige behaved like a man with a mega crush. Wright doesn't come out
and say it straight up but, ahem, the way he describes it, Tom and David
act like life partners, apparently believing that they are the only two
deserving of each other."

White House continues to decline comment on Prop 8 lawsuit before the Supreme Court: "For comment on specific Supreme Court cases, I would point you to the Department of Justice," Carney said. "On the issue of DOMA, the Defense of Marriage Act, the administration's position on this is well known, and has been. And that's the President has determined that Section 3 of DOMA is unconstitutional and that his administration will no longer defend equal protection challenges against it in the courts, and the DOJ has participated in the DOMA cases consistent with that position and asked the Supreme Court to resolve the question. So that is the DOMA issue."

EW offers first look at Finnick Odair in Hunger Games: Catching Fire.

The Hunger Games' Kato, Alexander Ludwig, is showing off his in-shape bod in Hawaii.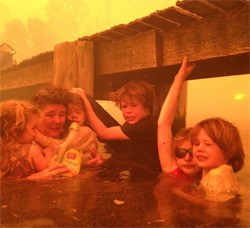 Family takes refuge under jetty to escape Australian wildfires.

MSNBC's Thomas Roberts confronts L.A. Mayor Antonio Villaraigosa about his relationship with Charlie Sheen: Villaraigosa laughed uncomfortably when confronted by Roberts about the picture. "I've said all I'm going to say about that," Villaraigosa dodged. "The people watching your program don't care about me or Charlie Sheen."

Boeing 787 Dreamliner hit with more problems: "The plane had a new problem Wednesday, when the Japanese carrier All Nippon Airways canceled a domestic flight after a computer on board erroneously showed problems with the aircraft's brakes. A spokeswoman for the airline, Megumi Tezuka, said the computer glitch was similar to one that appeared when the carrier first started flying the Dreamliners in 2011."