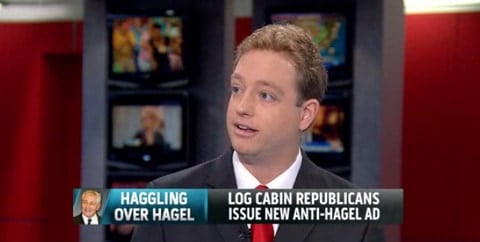 Earlier today I posted about the Log Cabin Republicans' latest ad in the Washington Post opposing Chuck Hagel's nomination as Defense Secretary. Today, MSNBC's Thomas Roberts talked to LCR interim executive director Gregory T. Angelo about the group's ad.
Watch, AFTER THE JUMP…
In related news, Army veteran and OutServe-SLDN Executive Director Allyson Robinson issued the following statement today on the Hagel nomination:
"Senator Hagel is an exceptionally qualified nominee for Secretary of Defense and we believe, if confirmed, he will be an effective leader for the Pentagon. Significant challenges remain for LGBT service members and their families, however, and it's long overdue that our Secretary address those challenges.
Our message to the next Secretary of Defense would be the same, no matter who was nominated and confirmed. A commitment to support LGBT service members and their families must be a commitment to action. It's past time to extend all benefits available to married same-sex military couples and families while the so-called Defense of Marriage Act (DOMA) is still on the books. It's past time to put in place military equal opportunity and nondiscrimination protections so that all qualified Americans who wish to serve this nation in uniform may do so without fear of harassment or discrimination. We look forward in the weeks ahead to discussing these and other issues important to LGBT service members and their families with Senator Hagel and his designees, and to working with him should he be confirmed to create equitable conditions for all those who serve our nation so bravely in uniform."
Visit NBCNews.com for breaking news, world news, and news about the economy