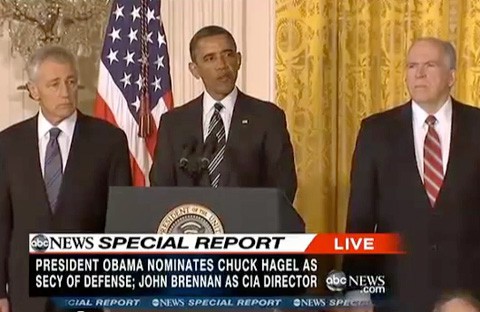 White House Senior Advisor Valerie Jarrett on the White House blog:
Recently, some in the LGBT community have expressed concerns about Senator Hagel's past comments. In response, Senator Hagel issued a statement in which he apologized for comments that he made in the 1990s, and affirmed both his commitment to LGBT civil rights as well as his support for open service and the families of gay and lesbian service members.
One of the great successes of the LGBT civil rights movement is that it provides the space and opportunity for people to change their hearts and minds, to right past wrongs, and, over time, to evolve. The President believes Senator Hagel's statement of apology, and his commitment to ensuring that all service members and their families are treated equally. The President would not have chosen him unless he had every confidence that, working together, they will continue to ensure that our military and DoD civilian workforce are as welcoming, inclusive, and respectful as possible.
Watch the Hagel nomination ceremony, AFTER THE JUMP…