NK: All of these plays have iconic female characters. Is
that something you're particularly drawn to as a director?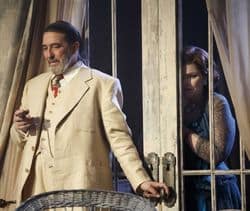 RA: I guess I am—I feel like I like the guys too. These are
classic roles, Maggie and Blanche and Anna Christie. But all of these
plays have great men's roles in them as well. I do know, especially with the southern plays [by Williams], from
growing up in the South [myself], the strength of the women in the house, in
the town, and in the community was very true.
In Cat too, that's
what we realized: Big Daddy, Brick and
Gooper are all weak, and the women are strong. Those three women are the
strength. That's not the stereotype, I think that's true [from my experience growing up there]. The women are the strength.  So I think I'm drawn to that, because that's my life, — lots
of strong women and lots of sweet well-intentioned men.
NK: How would you compare working in London versus New York,
both in terms of the creative process and what you might have learned to expect
from audiences?
RA: I have to say, I love both. Both offer
challenges. One thing I love about London is that I feel like the audiences
are more willing to listen longer before
they understand. So, they can not know what two characters mean to each other
until the end of a play. American audiences are a bit less patient. They're like, 'Okay, who are they? Who is she? Who is he? What's going to
happen to them?' and then they'll watch it. So I think that's one big
difference.
We have great actors on both shores, and I've been lucky to
work with [many].
I do feel like
there are slightly different agendas at times, just by the nature of the way our
community, the New York theatre community, has a season and these big awards.
The awards aren't quite the same in London. They don't mean the same thing. There's
not a season in London, so you just kind of do your play when you do your play.
And here, it's a lot more calculated.  But I enjoy both places. And the audiences, if you do good
work, will respond equally.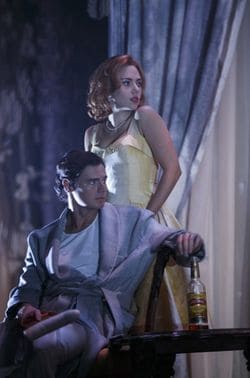 NK: Does your experience as a choreographer influence your
approach as a director?
RA: At first I was hoping it wasn't
going to be a detriment. I was hoping, God all these years and all that time
and I hope it doesn't stand in the way.
If I'm going to choreograph a number for Sutton Foster, I
get in the studio and I get a basic idea for what the number is going to be,
and I understand what I'm trying to say and what the intent is.
Then I get in the studio with Sutton and I start teaching it, and she's like, 'Oh, oh, oh could we turn the other way?' or 'Oh, oh,
oh can I kick the other leg?' or you start doing something and you're like 'Oh,
that doesn't look so good on Sutton…maybe we shouldn't do those jumps, maybe we
should do something else?'
And that's not compromising your work at all, that's
bringing it to life. That's bringing your dance to life. That's 'putting it on'
someone, is what they say in the ballet. I 'put this on' them, I choreographed
it on them, I made it for them.  That kind of bespoke service in dance is
normal, and also what you need to do to make a good dance.
It's the same process working with a play. You envision
certain things — you envision ways these characters might be, ways the room might
work, ways the blocking and the design might work. But when you get in there
and put it on them, and make it bespoke to them, it changes. There's so much
flexibility and they have so much more input. And because they have so much
more input, they're so much more invested. Also it just feels like them; it's
second nature to them.
Just the way I am with my steps and my music and a room full
of dancers, it's the same with actors. I have my ideas and my vision of how a
scene would move or play out or where people would be, and then you put it on
them and it changes and becomes something better. I would say rarely have I ever put a dance on any person or
group of people that it doesn't get better when they get a hold of it.
Cat On A Hot Tin Roof
opens on Thursday, January 17th at the Richard Rodgers Theatre. 
Recent theatre features…
Pulitzer Prize Winner 'Water By The Spoonful' Opens Off-Broadway: REVIEW
Amy Herzog's 'The Great God Pan' Opens Off-Broadway: REVIEW
What Rhymes with America Opens Off-Broadway: REVIEW
Stephanie J. Block Is Broadway's Latest Leading Man: INTERVIEW
Rock Musical 'Bare' Opens Off-Broadway: REVIEW
(Ashford portrait: Bruce Gilkas; other photos: Joan Marcus)
You can follow Naveen Kumar on Twitter @Mr_NaveenKumar.