Back in November I reported that Lisa Biron, a Manchester, New Hampshire lawyer associated with Alliance Defending Freedom (better and formerly known as the Alliance Defense Fund, an anti-gay Christian law group) was arrested on child pornography charges for videotaping her 14-year-old daughter having sex with two men on separate occasions.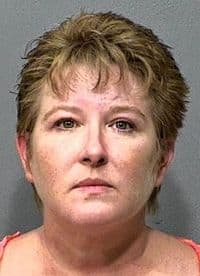 Biron was found guilty last Thursday:
Lisa Biron, 43, of Manchester faces a minimum sentence of 25 years in prison after a jury convicted her yesterday. The jury deliberated for less than an hour.
Biron, arrested by the FBI last November, was accused of eight felony counts involving the videotaping of men having sex with a 14-year-old girl who was identified by the Associated Press as her daughter. She also allegedly made a cellphone video of herself having sex with her daughter.
Biron, who claimed on her Facebook page (which was taken down, according to the Concord Monitor) that the Bible was her favorite book, had worked with Alliance Defending Freedom (ADF), formerly the Alliance Defense Fund, in defending a Pentecostal church in Concord in a tax fight against the city.
Alliance Defending Freedom has scrubbed all references to Biron from their website and Facebook page.