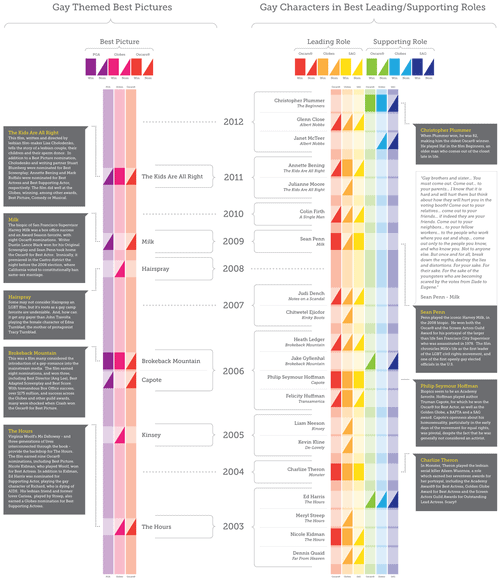 With the Oscars almost upon us, the folks at farsite foreast, where Nate Silver's statistical formulas are applied to the entertainment world, have broken down LGBT-related Oscar, SAG and Golden Globe wins and nominations from years past.
A sample of their analysis:
In the last ten years, in particular, there are 13 identifiable LGBT
roles that have received Oscar nominations, and quite a few more who
have picked up SAG and Golden Globe nods. Nominees range from the iconic
(winners Sean Penn as Harvey Milk and Philip Seymour Hoffman as Capote)
to the ordinary (Christopher Plummer in Beginners and Annette Bening in
the Kids Are All Right).

While we seem to celebrate the straight actor
or actress taking on the daring challenge to play gay, consider that we
have no openly gay actors or actresses who have won an Oscar, and few
have even been nominated.

We should include a few caveats. Gay actor John Gielgud Won for Best
Supporting Actor in 1981 for Arthur and he was nominated in 1964 as
well. Despite a gay scandal in the British tabloids 1953, Gielgud's
sexual orientation was not well-known or publicized in Hollywood. Recent
news-maker Jodie Foster has twice won and four times been nominated for
an Oscar. But, until last week's Golden Globes, Foster's identification
as a Lesbian was Hollywood's worst kept secret. She, in fact, made this
into a punch line in her speech.

Sir Ian Murray McKellen has long been
out and proud. But, despite multiple Laurence Olivier Awards, a Tony
Award, a Golden Globe Award, five Emmy Award nominations, and two
Academy Award nominations, Sir Ian has never taken home the Oscar.
This year's LGBT-related nominations are outside the "Big 5" realm: Tony Kushner is nominated for Best Adapted Screenplay for Lincoln and ParaNorman is up in the Best Animated Feature category, making the first animated movie to feature an openly gay character and be recognized by the Academy.
The graphic above will pop out into a larger window.