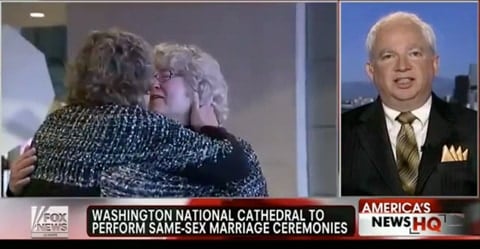 Reacting to the National Cathedral's decision to allow same-sex marriage ceremonies, NOM Chair John Eastman calls the Episcopal Church "cavalier" and compares it to living Constitutionalists who choose to interpret the Constitution in a dynamic manner.
The step that [the National Cathedral] has taken … is directly in violation of international Anglican law and the Book of Common Prayer. So they can do this if they want but redefining marriage to be something it was never understood to be is going to have dramatic consequences both in this country and in their church…They should realize that their own doctrine says this is not proper. "
Watch, AFTER THE JUMP…
In related news, NPR has a major interview with retired gay Episcopal Bishop Gene Robinson.