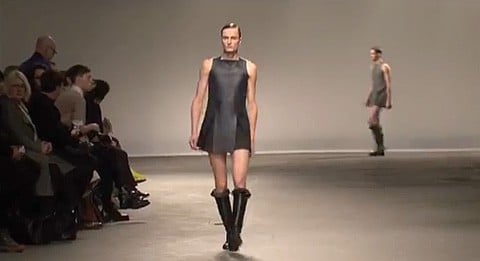 It Brit design JW Anderson's latest collection is all about gender-bending.
Writes Daniel Tehrani at OUT:
The inspiration for his collection, titled Mathematics of Love, was the "examination of bourgeois kinkyness and boudoir perversity" — the result, men in strapless camel bustiers, frilled bloomer-shorts, doctors' gowns complete with what looks like dishwashing gloves, a powder blue robe and kinky leather pleated dresses. Wearable? Not quite. Commercial? Definitely not, but it is certainly conceptual…
…Style.Com writer Jo Ann-Furniss says "write off Anderson as a mere provocateur at your peril; his agenda is more complex than that. The effeminacy of this collection—a kind of put-together sixties jolie madame made into a twisted jolie monsieur; think Séverine in Belle de Jour crossed with some of her kinky fantasy coachmen—is intended to reconfigure both menswear and womenswear, and to give a kick up the arse to the stale state of much of men's fashion at the moment."
In fact, Anderson is a part of a bigger movement to bring originality into the men's dress-code.
See the collection, AFTER THE JUMP…