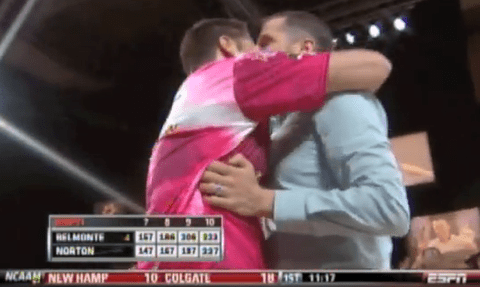 Gay pro-bowler Scott Norton beat out five-time champ Jason Belmonte at the 2012 PBA Chameleon Championship in Las Vegas in November, but the event wasn't aired until yesterday on ESPN.
While there was a time when ESPN would have shied away from addressing Norton's sexuality and, even more, his marriage to Craig Woodward, Outsports reports that the Disney-owned channel was completely supportive:
Scott Norton won the event over Jason Belmonte and afterward broke down and cried in memory of a friend who had died. He was then shown kissing his husband, Craig Woodward, as they exchanged affectionate words (video below). During the telecast, ESPN's announcers referred to Woodward as Norton's husband or spouse.
JW, a gay bowler who runs iabowling.tv, also offered a report on the broadcast:
It was nice to see the telecasters step into the 21st century and treat Scott's homosexuality as just a matter of fact and not a sensation. The focus was upon how well he was playing. They did mention that Scott came out after his win in 2011 during the telecast… His accomplishment is notable because this is his second win and that makes him a rising star on the PBA tour, who happens to be gay and married to a man. Just good stuff all around.
Watch video of Norton and his husband celebrating the win AFTER THE JUMP.