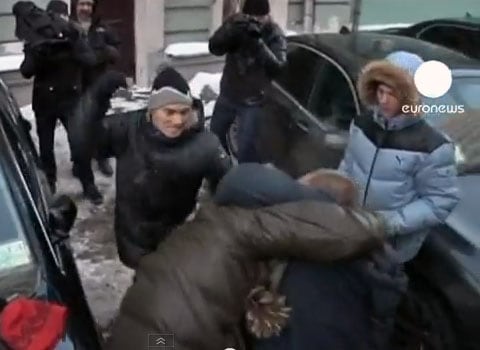 A group of activists staging a kiss-in in Moscow to protest the proposed ban on "gay propaganda" were assaulted by homophobes on Tuesday outside of Parliament.
Watch the Euronews report and video of the bashing, AFTER THE JUMP…
RT reports that hearings on the proposed ban have been postponed:
The Russian State Duma has returned the bill on a nationwide gay propaganda ban to the preparatory stage, prompting conspiracy suggestions from some top level MPs.
The Lower House had already postponed the hearings from mid-December to the end of January, but as the date neared the lawmakers decided to return the draft law to the State Duma suggesting the nationwide ban on promotion of paedophilia and homosexuality among minors needed further discussion.
The news was announced to reporters by the head of the leftist Fair Russia faction, Sergey Mironov, who also said that he was perplexed by this fact. "We are talking about the ban on propaganda. Do you remember how [the head of the parliamentary committee for family policy] Yelena Mizulina said that she had a feeling that someone was deliberately opposing all bills concerning this subject? Now we postponed it again, and it raises questions," Mironov told reporters.
Activists were also attacked in the city of Voronezh on Sunday. See our report here.