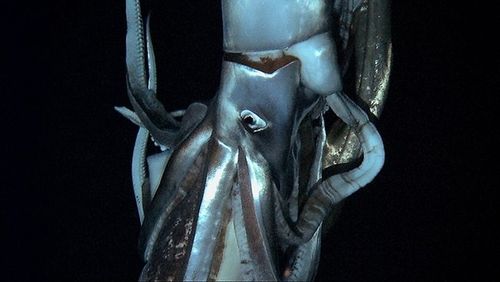 Squid Week is at the end of this month on the Discovery Channel:
"When Discovery does natural history it sets the bar high, and this ground breaking project features the very first ever footage of a live giant squid in its natural habitat. Our crew came face-to-face with the giant squid, and it's the ideal season finale for our CURIOSITY series that stirs the imagination of our audience, bravely asking questions and fearlessly seeking answers. This latest production, four years in the making, is a world-first achievement for television, and I'm excited to share it," said Eileen O'Neill, Group President of Discovery and TLC Networks.
Discovery and NHK captured groundbreaking imagery below the Pacific waters during a mission that included over more than 285 hours in the abyss, 55 sub dives, some at depths greater than 3,000 feet, and a crew of scientists…
AFP adds:
Museum researcher Tsunemi Kubodera said they followed the enormous mollusc to a depth of 900 metres as it swam into the ocean abyss. NHK showed footage of the silver-coloured creature, which had huge black eyes, as it swam against the current, holding a bait squid in its arms.
For Kubodera it was the culmination of a lengthy quest for the beast.
"It was shining and so beautiful," Kubodera told AFP. "I was so thrilled when I saw it first hand, but I was confident we would because we rigorously researched the areas we might find it, based on past data."
Kubodera said the creature had its two longest arms missing, and estimated it would have been eight metres long if it had been whole. He gave no explanation for its missing arms.
One more screenshot, AFTER THE JUMP…