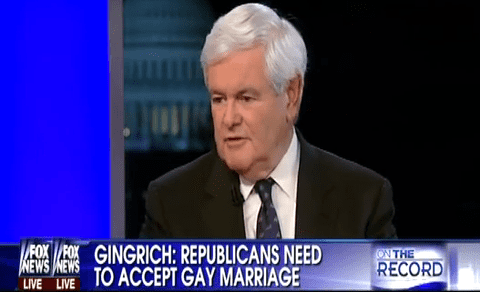 Say what you will about failed presidential candidate Newt Gingrich, but the former Republican House Speaker is poised, either by design or by circumstance, to become one of his party's loudest voices on marriage equality. And that's a good thing.
A few weeks ago Gingrich said he's come to see the "reality" of our changing culture, and last night Gingrich told Fox News' Greta Van Susteren that he hopes the GOP will come to understand the "human side" of same-sex love.
An excerpt, via JMG:
I think this is a very complicated human problem and Republicans need to take a deep breath and understand we need to deal with the human side of this equation — and understand that we want to defend marriage in its classic form between a man and a woman. I don't accept that there's an alternative. The government can declare that a Ford truck is Air Force One. That doesn't mean it can fly. It's not that I want to change my belief. I think that in fact it's a big mistake to be confused about this issue.

But I think it's also a legal reality that now people are being allowed to create legal status over here.
Watch video of Gingrich's latest remarks AFTER THE JUMP. The pertinent comments begin at about the 8 minute mark.