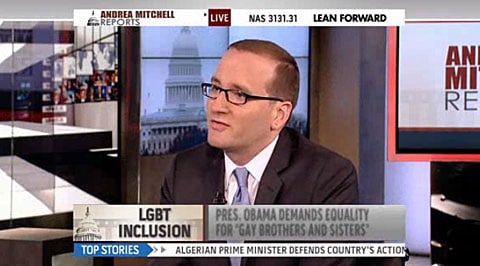 HRC President Chad Griffin spoke with Andrea Mitchell about Obama's inaugural address:
"The President really has begun his legacy on this issue. This civil rights moment in our history. He has done that in his first term and it's now time to take it to the next step and to really fully bring about full and complete equality under the law. Because as long as our government discriminates, it gives license to everyone else to discriminate."
Griffin also talked about Chuck Hagel:
"We've accepted his apology with regard to what he said. I look forward to hearing how he plans to fully implement the repeal of DADT and bring about equal benefits to all our men and women serving in uniform in this country."
Mitchell also asks about DOMA, Prop. 8, and the Supreme Court.
Watch, AFTER THE JUMP…
Visit NBCNews.com for breaking news, world news, and news about the economy