Facebook founder Mark Zuckerberg is holding a big fundraiser for NJ Governor Chris Christie, the Washington Post reports: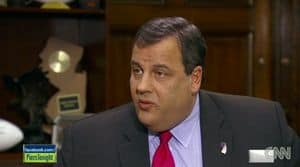 Zuckerberg previously donated $100 million to the Newark school system after striking up a friendship with Newark Mayor Cory Booker (D). Booker, Christie, and Zuckerberg announced the donation together on "The Oprah Winfrey Show." There has been some controversy over how that money has been spent.
"Mark and [his wife] Priscilla have worked closely with Governor Christie on education reform in the Newark school system," Facebook spokeswoman Sarah Feinberg said in a statement. "They admire his leadership on education reform and other issues and look forward to continuing their important work together on behalf of Newark's school children."
According to the Wall Street Journal, the Feb. 13 event will be the first campaign fundraiser at Zuckerberg's home. Facebook's corporate PAC donates to both parties but currently tilts slightly in favor of Republicans.
Does that get a "like"?