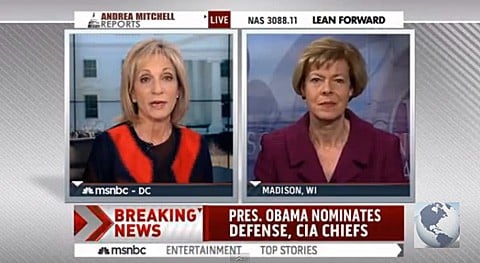 Senator Tammy Baldwin (D-WI) appeared on Andrea Mitchell Reports today to speak about the Chuck Hagel nomination as Defense Secretary and the pushback it has received from some LGBT rights advocates.
Said Baldwin:
"I do not know Chuck Hagel…I do want to speak with him, particularly about his comments 14 years ago, to see if his apology is sincere and sufficient. I want to hear how he's evolved on this issue in the the last 14 years because the significance to the post to which he's been nominated is the respect for now openly gay members of the military who because of the repeal of Don't Ask, Don't Tell can serve openly and we need to see that implemented successfully…"
Mitchell also asks Baldwin if she has any concerns about how Obama's cabinet is shaping up given that he has thus far assembled a white male team of top foreign policy advisers.
Watch, AFTER THE JUMP…