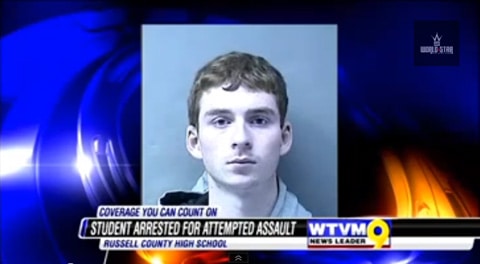 Authorities in Russell County, Alabama have thwarted a planned attack by a high school student and self-declared white supremacist on gay and black classmates, after a teacher found the teen's journal, ABC News reports:
Derek Shrout was arrested Friday after a teacher at Russell County High School found what appears to be the teen's journal and contacted authorities. Police said the journal contained plans to kill six students and one teacher with homemade grenades. Six of the seven individuals were black.
In the journal, police say that Shrout thought the white male on his list was gay.
"That's the reason the white male was on the list. It screams hate crime," Russell County Sheriff Heath Taylor said.
Investigators say Shrout started writing in his journal just three days after a gunman killed 20 children and six adults at Sandy Hook Elementary School in Newtown, Conn., on Dec. 14.
"The journal contained several plans that looked like potential terrorist attacks and attacks of violence and danger on the school," Taylor said.
Watch a report from WTVM, AFTER THE JUMP…