The new GOP plan to steal the next presidential election.

Obama and Hillary Clinton taping joint 60 Minutes interview for Sunday.


How do you photograph a giant Sequoia?

Oprah targeted by activists for using cream made of human foreskins on her face.

Supreme Court-appointed lawyer argues DOMA case can't be heard.

Audit reveals billionaires secretly funding climate change skeptics: "The Donors Trust, along with its sister group Donors Capital Fund, based in Alexandria, Virginia, is funnelling millions of dollars into the effort to cast doubt on climate change without revealing the identities of its wealthy backers or that they have links to the fossil fuel industry. However, an audit trail reveals that Donors is being indirectly supported by the American billionaire Charles Koch…"

JJ Abrams to direct new Star Wars film.

Is Boca Raton, Florida anti-gay? "Over the last six months, the city has been locked up with activists over a number of issues involving the rights of gays, lesbians, and non-gender conformers. Looking back, it's been a long, strange circus. In one corner we've got rusty policy; in another, city memos padded with info from anti-gay groups; and, topping things off, politicians comparing sexuality identity to dog ownership. "

VIDEO: What is Usher transforming into?

Michelangelo Signorile fondly recalls the time he called Pope Benedict 'The Devil' to his face.

Paul Begala: Will Obama deliver on gay rights? "This president has evolved significantly on gay rights, but he has a distance to go still. If he does not move quickly and decisively, the White House mailroom may soon be filled with stones, to remind him of the promise of Stonewall."

Joe Manganiello talks True Blood Season 6.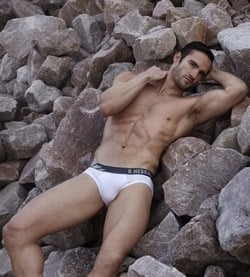 Scottish rugby player Thom Evans drapes his bod over some rocks for a new underwear campaign.

J.Crew's Jenna Lyons is buying a Soho loft with girlfriend Courtney Crangi: "Lyons, who divorced her ex-husband of nine years, artist Vincent Mazeau, in the summer of 2011, got romantically involved with family friend Crangi right after their split, sparking rumors that Crangi, sister of jewelry designer Philip Crangi, split Lyons and her husband."

DOMA defending lawyer Paul Clement is up to more no good: "Attorneys who submitted anti-gay briefs to the Supreme Court in favor of California's Proposition 8 and the Defense of Marriage Act are continuing the mischaracterization of a 2002 study on child development to suggest same-sex parents are less fit than opposite-sex parents, according to the non-profit that produced the study."