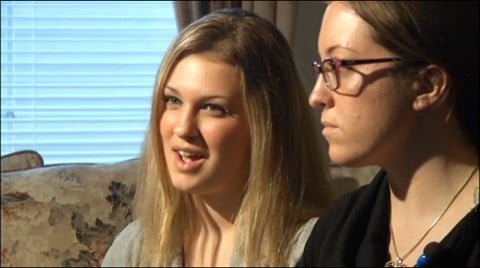 Ariel and Shawnee McPhail, a married lesbian couple from North Carolina, say Ed McGovern, the owner of the Sting Ray Cafe in New Bern, handed them a letter as they left his restaurant, condemning their homosexuality, WCTI reports.
Said the letter:
God said in the last days that man and wom[a]n would be lover of self, more [than] the lover of God.
That man and woman would have unnatural [affection] for one another. Then, the coming of the Son of Man, who is Jesus. So please, look at your life. See how it hurt[s] everyone around you. And ask the Lord to open your eye[s] before it [is] to[o] late.
The Love of Christ
P.S. my daughter also was gay. It destroy[ed] her life and my grandson."
McGovern says he didn't like that the couple was kissing outside his restaurant, which they deny doing.
"First of all, we didn't kiss. We don't kiss in public. We were holding hands," said Shawnee McPhail. "Secondly, if I did kiss my wife in public, what married couple would you go to and say, 'how dare you. You cannot hold hands and you cannot kiss in public therefore you deserve my judgement.'"
Watch WCTI's interview with the couple HERE. Read the letter below.