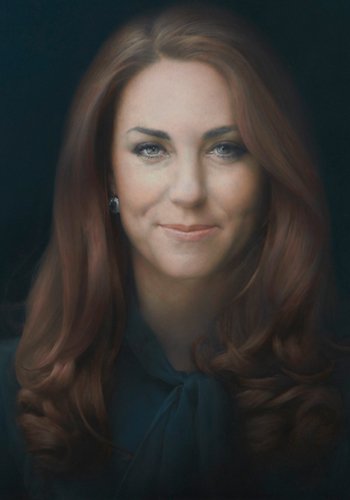 Artist Paul Emsley was commissioned to do the first official portrait of Kate Middleton which will hang in the National Portrait Gallery, but nobody likes it.
Believe it or not, this is not some provocative project cooked up by an attention seeking art student (or Morrissey) aiming to show us what Kate would look like if she was twenty years older, smoked, never washed her hair and ate junk food, but her first official portrait.
The Telegraph called it 'an aesthetic disaster":
For the Duchess of Cambridge, however, he has produced what looks like a piece of mawkish book illustration, a work that could be read as an almost comical pastiche of a certain kind of 'sensitive' painting – that might pass muster on the cover of a Catherine Cookson novel, but will hardly bear sustained scrutiny in a major art gallery. If Kim Jong un, Supreme Leader of North Korea, had a portrait painted of himself in a similar idiom, we'd all be crowing from the rafters about the pitiful taste of foreign despots.
And Twitter appears not to be on board.
The Royal Channel released a video about it. Watch, AFTER THE JUMP…