President Obama late Wednesday signed the 2013 National Defense Authorization Act, the major defense budget bill, along with a signing statement objecting to a few elements in the legislation, including a "conscience" provision which protects service members from being forced to perform same-sex marriages or other duties that might offend their religious believes.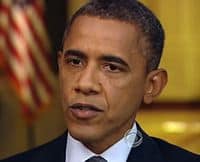 Writes Obama in the signing statement:
Section 533 is an unnecessary and ill-advised provision, as the military already appropriately protects the freedom of conscience of chaplains and service members. The Secretary of Defense will ensure that the implementing regulations do not permit or condone discriminatory actions that compromise good order and discipline or otherwise violate military codes of conduct. My Administration remains fully committed to continuing the successful implementation of the repeal of Don't Ask, Don't Tell, and to protecting the rights of gay and lesbian service members; Section 533 will not alter that.
Read Obama's full signing statement, AFTER THE JUMP…