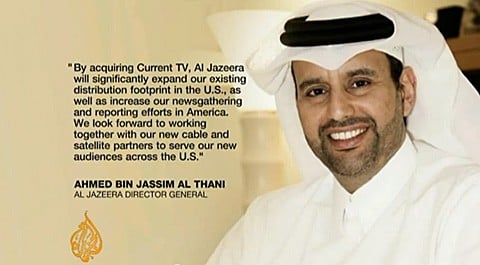 Al Jazeera has bought Current TV, the progressive struggling cable and internet news station started by Al Gore, which it plans to rebrand to Al Jazeera America, adding staff and new U.S. bureaus, the network reports:
Terms were undisclosed, but analysts told the Reuters news agency the deal could be worth an estimated $500m. The new channel will be headquartered in New York City.
In addition to the existing Al Jazeera news bureaus in New York, Washington, DC, Los Angeles, Miami and Chicago, Al Jazeera will open additional bureaus in key locations across the United States. It will also double its US-based staff to more than 300 employees.
The deal brings Al Jazeera into closer competition with American news channels like CNN, MSNBC and Fox. The award-winning channel is seen in more than 260 million homes in 130 countries, but has had limited access to US markets.
"For many years, we understood that we could make a positive contribution to the news and information available in and about the United States and what we are announcing today will help us achieve that goal," Ahmed bin Jassim Al Thani, director general of Al Jazeera, said in a statement. "By acquiring Current TV, Al Jazeera will significantly expand our existing distribution footprint in the US, as well as increase our newsgathering and reporting efforts in America."
Watch Al Jazeera's report on the acquisition, AFTER THE JUMP….
Former VP Al Gore made bank on the deal, the NYT reports:
Al Jazeera did not disclose the purchase price, but people with direct knowledge of the deal pegged it at around $500 million, indicating a $100 million payout for Mr. Gore, who owned 20 percent of Current. Mr. Gore and his partners were eager to complete the deal by Dec. 31, lest it be subject to higher tax rates that took effect on Jan. 1, according to several people who insisted on anonymity because they were not authorized to speak publicly. But the deal was not signed until Wednesday.