John Aravosis at Americablog reports that Towleroad is among the websites blocked by the U.S. Department of Defense: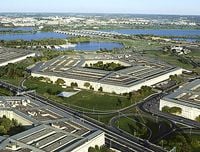 But what's really offensive is that the Pentagon has a censorship category called "LGBT."  And if you're deemed "LGBT" by the Pentagon, they ban you.
I wonder if the Pentagon has a censorship category titled "Jewish," "African-American," or "Latino."
The LGBT filter existed before the repeal of Don't Ask, Don't Tell, but still has not been fixed.  And the Pentagon was notified of the problem as early as last summer, 2012.  Yet no one's gotten around to doing anything about it. I'm also told that the censorship varies service and geographical reason – it's not entirely clear why the Pentagon doesn't use the same bans nationwide and agency-wide, if it's going to use any bans at all. This problem has to be fixed Pentagon-wide.
Apparently Ann Coulter and Rush Limbaugh are okay, however, despite the hate they spew.