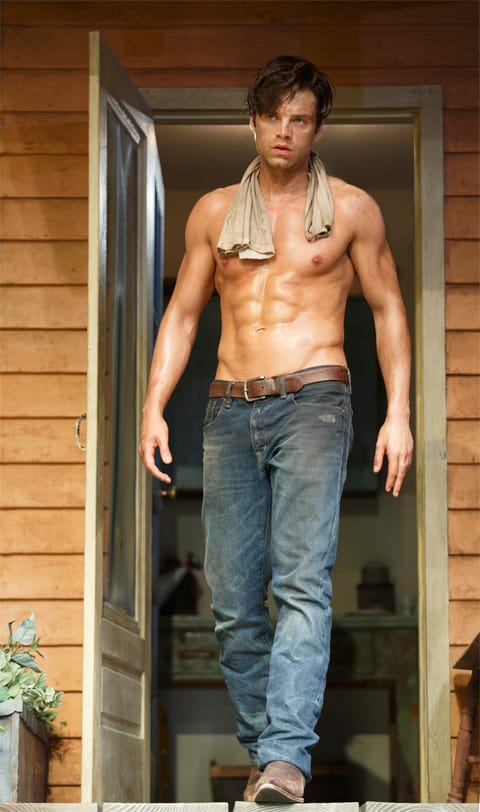 BY NAVEEN KUMAR
With the exception of a winning
performance by stage champ Elizabeth Marvel, the most invigorating aspect of
Roundabout Theatre Company's staid revival of William Inge's Picnic are film hunk Sebastian Stan's high-definition
abs. They feature so prominently in director Sam Gold's production, which opened Sunday on Broadway, that Ben
Brantley of the New York Times suggested they deserve star billing on the marquee.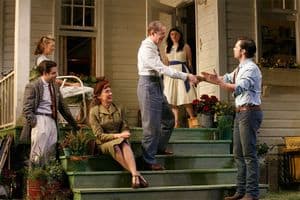 Stan plays Hal Carter, a handsome
and charismatic roustabout whose arrival in a small Kansas town shakes up the
constrained lives of variously lonely and restless female residents. The women of Picnic—young or old, smart or beautiful—face limited options, and
not many lead far from the quaint backyard that makes up the stage.
Inge's women on the verge include
Ellen Burstyn as Helen Potts, a neighbor who feeds Hal in exchange for a bit of
yard work (hence his various states of undress), Marvel as Rosemary Sydney, a wry
spinster school teacher whose eyes nearly bug out at the sight of him, and town
beauty Madge Owens (Maggie Grace), daughter to Flo (Mare Winningham) and older
sister to the more gawky Millie (Madeleine Martin).
Hoping for a new start, Hal rolls into town seeking help from his former fraternity brother, and Madge's
buttoned-up steady, Alan Seymour (Ben Rappaport). Instead, Hal and Madge are naturally
drawn to each other, completing the play's central love triangle.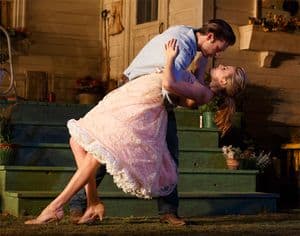 Originally staged on Broadway in
1953, in a production that included Paul Newman in his Broadway debut, Picnic can seem dated to contemporary
audiences, particularly in it's 'aw-shucks' colloquial dialogue. Gold's
production does little to brush off the dust or breathe new life into the
story. Partial reproductions of two suburban houses dominate the stage leaving
limited room to maneuver a cast of twelve, while lighting design by Jane Cox
borders on bizarre.
Though the conventions of post-war
gender roles that fuel the play's action are outdated, restless desire
simmering underneath genteel exteriors is the stuff of Chekhov. As randy, aging
schoolmarm Rosemary Sydney, it's Marvel who best embodies the raw desperation
for companionship and a better life that most characters share. She performs
sharp emotional turns that betray innate animal instincts never far from the
surface.
To be fair, Stan's abs-that-launched-a-thousand-ships
are in fact integral to the play's story, though the production's emotional
intensity doesn't quite live up to the promise of their carnal appeal.
Picnic
continues performances on Broadway through February 24th at the
American Airlines Theatre.
Recent theatre features…
'The Other Place' Starring Laurie Metcalf Opens On Broadway: REVIEW
Rob Ashford Takes on 'Cat On A Hot Tin Roof' on Broadway: INTERVIEW
Pulitzer Prize Winner 'Water By The Spoonful' Opens Off-Broadway: REVIEW
Amy Herzog's 'The Great God Pan' Opens Off-Broadway: REVIEW
What Rhymes with America Opens Off-Broadway: REVIEW
Follow Naveen Kumar on Twitter:
@Mr_NaveenKumar. (photos: joan marcus)