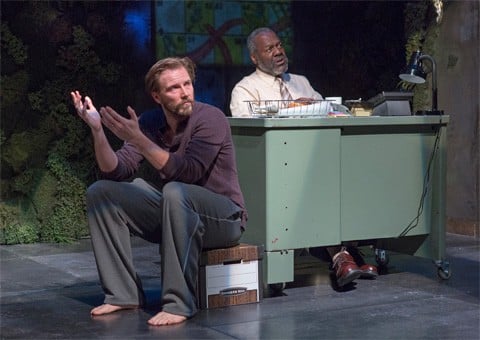 BY NAVEEN KUMAR
2012 Pulitzer Prize Winner for
Drama, Water By The Spoonful by Quiara
Alegría Hudes, opened Off-Broadway on Tuesday in a New York premiere at Second
Stage Theatre. Directed by Davis McCallum, the play attempts to explore the
complex nature of addiction and recovery, trauma, loss, and the ties of kinship,
both familial and unconventional.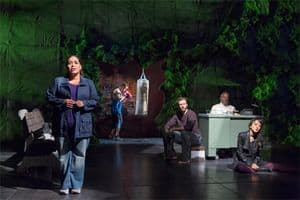 The story moves between scenes set
in and around Philadelphia, and those set in an online forum, where characters known
to each other only by their onscreen avatars participate in an ongoing support
group for recovering narcotics addicts.  
The off-line story follows two
loving cousins dealing with a death in their close extended family, whose roots
trace back to Puerto Rico. As Elliot, a young veteran adjusting to life after his
return from Iraq, and Yaz, an adjunct professor of music, Armando Riesco and
Zabryna Guevara exhibit a genuine familial rapport and each deliver grounded
and touching performances.
In a parallel story that remains
separate from the latter for Water's
first act, characters in an online community speak about overcoming addiction
and battling the internal demons they all share.
Frankie Faison (Fences) plays username 'Chutes and Ladders,'
a gay middle-aged African American man with a mordant wit and a penchant for
cutting through crap. Sue Jean Kim plays 'Orangutan,' a young Asian American
adopted at a young age, logging on from Japan where she seems to be running
from herself and chasing her roots in equal measure.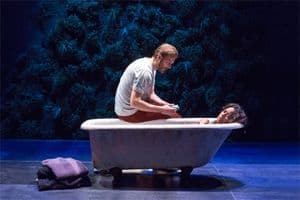 Conflict arrives with the contributions
of new user 'Fountainhead,' played by Bill Heck (The Public's Merchant of Venice), a highly
functioning white collar addict snidely reluctant to admit he has more than a
recreational problem. Liza Colón-Zayas is particularly affecting as 'HaikuMom' (aka Odessa), the site's maternal administrator and censor for foul language or
intent.
Midway through, the stories connect at last when Odessa turns out to be part of the same Puerto Rican family: Yaz's aunt and
Elliot's mother. A caring and poetic 'HaikuMom' to her online comrades, her
struggle with addiction made her devastatingly delinquent in her real maternal
duties. The deceased family member was her sister, who succeeded in raising Elliot
where she failed, and her son will never let her forget it.
With much of its dialogue set online, the play presents a
challenge to compelling physical staging. Under McCallum's direction, online
players direct their speech exclusively toward the audience, speaking in
hyper-articulate long-form monologues, impulsive emotional outbursts, and the
occasional LOL (for practical reasons that are perhaps obvious, gestural
reference to typing is eschewed). Computers are sometimes present, but mostly
not, and characters meant to be participating in the chat room react to each
other's dialogue but don't look directly at one another.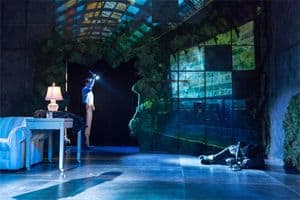 Their connectivity in isolation both as addicts and members
of an online community, though surely part of the point, does not always make
for visual—or visceral—drama. As the play unfolds and emotional stakes
heighten, it becomes increasingly difficult to connect with characters that
aren't dynamically interacting with each other on stage.
Neil Patel's set, a curious
combination of artificial greenery and coarse industrial walls featuring cameos
by everyday furniture, embodies the production's somewhat muddled approach to
material that often chafes under naturalistic presentation.
"Talking about ideas," Yaz tells her cousin Elliot, "isn't saying something, it's making syllables with your
mouth." Ultimately, there is no mistaking Hudes' hand with language and ideas, and
her wide range of understanding when it comes to human instinct and psychological
turmoil. But a unique voice certainly begs an equally imaginative theatrical presentation.
As Yaz continues, "ideas don't fill the void, they just help you articulate it."

You can follow Naveen Kumar on Twitter @Mr_NaveenKumar.
Recent theatre features…
Amy Herzog's 'The Great God Pan' Opens Off-Broadway: REVIEW
What Rhymes with America Opens Off-Broadway: REVIEW
Stephanie J. Block Is Broadway's Latest Leading Man: INTERVIEW
Rock Musical 'Bare' Opens Off-Broadway: REVIEW