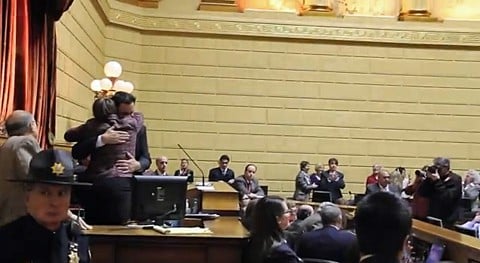 Supporters of marriage equality in Rhode Island spoke out and celebrated yesterday in Providence as the House passed marriage equality in a 51-19 vote. Check out this beautiful video of the vote going down.
Watch, AFTER THE JUMP…
The AP notes the tough battle ahead in the senate, in its report on the vote:
It could be weeks or even months before the Senate takes up the bill that would make the Ocean State the last in New England to recognize same-sex marriage, but supporters still celebrated the House vote…
…Gov. Lincoln Chafee, who supports gay marriage, urged quick action on the bill in the Senate. The governor, an independent, argues gay marriage is an issue of civil rights and the state's quality of life, and said some people may choose other New England states over the Ocean State because of its stance on marriage.
"Now that the House has swiftly acted, I urge Senate leadership to 'call the roll' — for our economy, for our gay and lesbian friends and neighbors, and for history," he said in a statement.
Advocacy groups on both sides of the issue will now turn their attention to the 38-member Senate, which has never voted on gay marriage legislation.
Chris Plante, director of the state chapter of the National Institute for Marriage, said he's optimistic senators will vote to preserve the state's current marriage laws. He said leaders like Fox and Chafee don't reflect public sentiment.