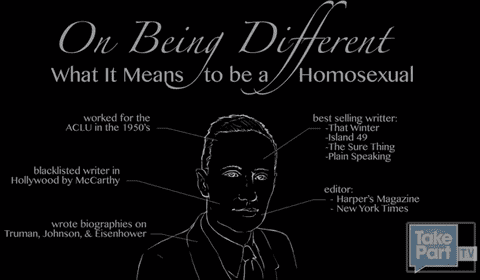 Forty years ago, a magazine editor named Merle Miller broke new ground by publicly coming out in a New York Times article called "What It Means To Be Homosexual." Discussing that essay's recent republication — Penguin put it out last year with a new foreword by Dan Savage — Emily Greenhouse at the New Yorker wrote:
The article was published on January 17, 1971. It was extraordinary. Miller had not intended to write anything personal—"I have no taste for self-revelation," he later wrote—but it seems to have spilled out from his pen, his typewriter, a reasoned and reasonably furious demand for respect. "I am sick and tired," he wrote, "of reading and hearing such goddamn demeaning, degrading bullshit about me and my friends." It was a great deal more than that, but in a way, Miller's anger was it: a simple, loyal appeal on behalf of himself and his bullied friends.
In the video AFTER THE JUMP, Savage himself discusses Miller's impact on gay culture and what it means to "be different" in these more inclusive, though not necessarily less dangerous, times.