New York Senator Charles Schumer and California Senator Barbara Boxer are getting behind the nomination of Chuck Hagel as Defense Secretary.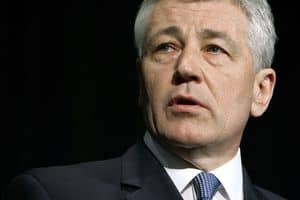 Politico reports that Boxer has been swayed by a persuasive letter and "extensive" phone conversations:
"First and foremost, he has pledged without reservation to support President Obama's polices — policies that I believe have made our world safer and our alliances stronger," Boxer said in a Monday night statement.
"I asked him about a number of issues — including America's special relationship with Israel, the threats posed by Iran to the world and the treatment of women and gay and lesbian members of our military — and his answers were reassuring and show a sensitivity and understanding of these issues."
Boxer added Hagel would meet with her about the Pentagon's efforts to eliminate sexual assault in the military, presuming he's confirmed by the Senate.
The outreach shows how the White House has placed a premium in wooing key Democrats early in the confirmation process — even ones like Boxer, who does not serve on the Armed Services Committee.
And Schumer says he's now on board too, saying, in part:
On issues related to female and LGBT service members, Senator Hagel provided key assurances as well. He said he is committed to implementing the Shaheen amendment to improve the reproductive health of military women. He also supports the full repeal of Don't Ask, Don't Tell.
In general, I believe any President deserves latitude in selecting his own advisors. While the Senate confirmation process must be allowed to run its course, it is my hope that Senator Hagel's thorough explanations will remove any lingering controversy regarding his nomination.
Read Schumer's full statement here.
Read Hagel's letter to Boxer, AFTER THE JUMP…