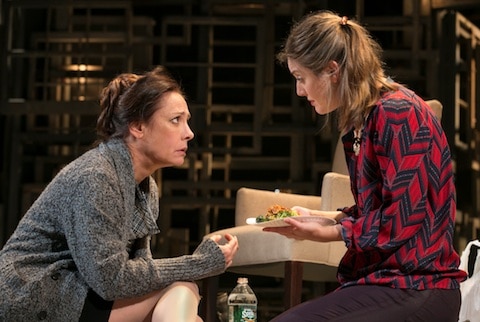 BY NAVEEN KUMAR
Among the most arresting moments in
Joe Mantello's superb production of Sharr White's The Other Place, which opened on Broadway last week at Manhattan
Theatre Club's Samuel J. Friedman theatre, are those that dramatize sudden
shocks to the system—like a stomach plunging through the floor, a heart skipping
a beat, or the prickly heat that courses through the body after a terrifying
realization.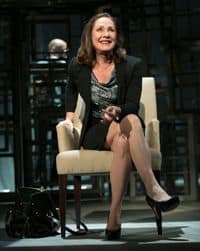 White's psychological drama stars
Laurie Metcalf in a magnetic and wrenching performance as Juliana Smithton, a
neuroscientist who has developed a drug that may lead to a major breakthrough in
brain cancer treatment. As the play begins, Metcalf's character recounts the
experience of a strange mental episode she suffered while delivering a routine
lecture at a medical conference in the Virgin Islands.
A commanding orator accustomed to
addressing large roomfuls of doctors, Metcalf's Juliana inspires the sort of
objective certainty duly associated with successful scientists. The lecture in
question seems no different at first, but her indelible self-possession is
rattled by the appearance of a young woman in a yellow bikini sitting among the
buttoned-up docs. Her preoccupation with this anomalous, scantily clad visitor
leads Juliana to make a number of stray remarks before she's ultimately
rendered speechless.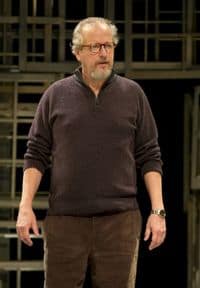 Juliana's retelling of the bizarre
incident is interspersed with scenes of her ensuing visits to a young female
doctor, as well as conversations in her troubled marriage to a respected
oncologist (Daniel Stern).  Back in her
hotel room after the lecture, there is also a phone call to her long-estranged
daughter, with whom she and her husband lost contact many years ago. Metcalf's
talented off-stage daughter, Zoe Perry, plays her daughter on stage, in
addition to the young doctor, and a third character near the play's conclusion.
Under Mantello's smooth and intelligent
direction, White's carefully assembled mystery of a troubled mind unravels
seamlessly. Punctuated by unnerving moments of revelation, the production imagines
the chilling experience of losing a grip on one's identity and basic
understanding of the world. The play opens up into a rabbit hole of sorts, in
which assumption becomes slippery and emotions easily overwhelming.
Slick and imaginative visual
elements, including a collage-like floating assembly of wooden frames, beautiful
projection and lighting design, are integral to the production's propulsive storytelling.
MTC's production of The Other Place follows the play's world
premiere Off Broadway at Manhattan Class Company (MCC) in 2011. Metcalf earned
both an Obie and Lucille Lortel Award for her acclaimed performance in the Off
Broadway run, also directed by Mantello.
The
Other Place continues performances on Broadway through February 2nd
at the Samuel J. Friedman Theatre. 
Recent theatre features…
Rob Ashford Takes on 'Cat On A Hot Tin Roof' on Broadway: INTERVIEW
Pulitzer Prize Winner 'Water By The Spoonful' Opens Off-Broadway: REVIEW
Amy Herzog's 'The Great God Pan' Opens Off-Broadway: REVIEW
What Rhymes with America Opens Off-Broadway: REVIEW
Stephanie J. Block Is Broadway's Latest Leading Man: INTERVIEW
Follow Naveen Kumar on Twitter: @Mr_NaveenKumar.