Over the weekend, Steve reported that three priests and a former priest in the United Kingdom have accused anti-gay Cardinal Keith O'Brien of what The Observer reports as "inappropriate behaviour" involving the men. The newspaper lists the claims by the four (referred to as Priests A, B, C & D) which go back 33 years.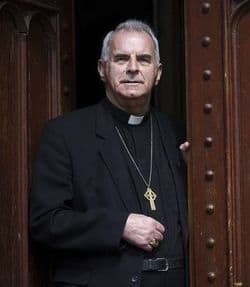 The Cardinal had responded that he would contest the claims and take legal action.
Now, it appears, he is stepping down, the Telegraph reports:
The most senior Catholic cleric in Britain, Cardinal Keith O'Brien of St Andrews and Edinburgh, has been forced to resign ahead of schedule following allegations that he made homosexual advances to younger clergy in his diocese – and isn't now expected to attend the conclave to elect the next Pope. There will now be no Briton in the Sistine Chapel when voting takes place. O'Brien's early resignation is believed to have been at the personal insistence of Benedict XVI, in one of his last acts as Pope.
The Cardinal denies the allegations, whose publication has been carefully timed – but his decision will remind the cardinals meeting in Rome next month that allegations against its clergy have now permeated the entire institution.
The next Pope's first priority must be to restore confidence in the sexual probity of the Church. Who on earth is going to be able to do that?
Yes, who on earth is going to be able to do that?