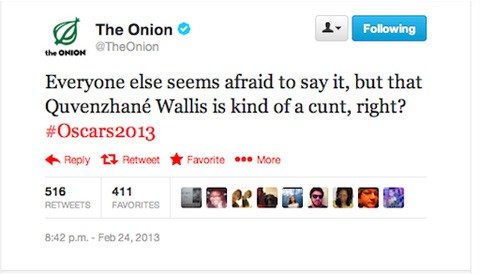 The Onion pushes the envelope, but did it go too far this time?
Buzzfeed writes: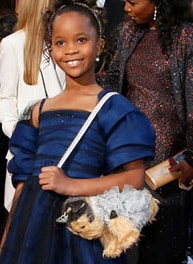 After being up for an hour, the backlash gathered, and the tweet was deleted. Was it meant to be some sort of joke reflecting on how people talk about someone like Anne Hathaway? I tweeted at The Onion for comment, and emailed its editor, but have not gotten a response.
During the show, MacFarlane sexualized her as well: "To give you an idea of just how young she is, it will be 16 years until she's too old for Clooney."
In other, more upbeat news, she's going to take over for Willow Smith in the Annie remake:
"With the recent Academy Award nomination and critical acclaim, Quvenzhané Wallis is a true star and we believe her portrayal as Annie will make her a true worldwide star," said Hannah Minghella of Columbia Pictures. "She is an extraordinary young talent with an amazing range, not only as an actress but as a singer and dancer, and we can't wait for audiences to further discover her."
UPDATE: The Onion apologizes.
Feb. 25, 2013
Dear Readers,
On behalf of The Onion, I offer my personal apology to Quvenzhané Wallis and the Academy of Motion Picture Arts and Sciences for the tweet that was circulated last night during the Oscars. It was crude and offensive—not to mention inconsistent with The Onion's commitment to parody and satire, however biting.
No person should be subjected to such a senseless, humorless comment masquerading as satire.
The tweet was taken down within an hour of publication. We have instituted new and tighter Twitter procedures to ensure that this kind of mistake does not occur again.
In addition, we are taking immediate steps to discipline those individuals responsible.
Miss Wallis, you are young and talented and deserve better. All of us at The Onion are deeply sorry.
Sincerely,
Steve Hannah
CEO
The Onion