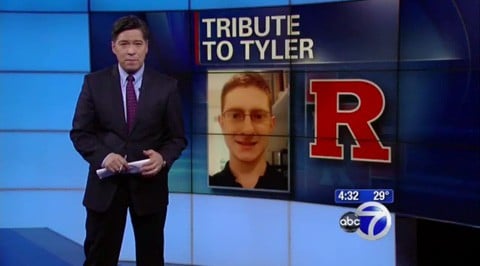 The Tyler Clementi Center at Rutgers University, in honor of the student who took his own life in 2010 after being spied on and harassed for being gay, was established on Monday, the Star-Ledger reports:
The center will focus on helping students make the transition from home to college. It will also offer lectures and training on issues related to bullying, the misuse of social media and suicide among gay youth.
"Through the Tyler Clementi Center we have the chance to impact not only young people at Rutgers, but young people across the nation," said Joseph Clementi, Tyler's father, at a ceremony announcing the project.
Several hundred people, including students, gay rights supporters and mental health activists, attended the ceremony at the Rutgers Visitors Center in Piscataway. The Clementi Center is a joint project by Rutgers and the Tyler Clementi Foundation, a non-profit group started by the freshman's family after his death.
Additionally, legislation was introduced to coincide with the announcement of the center:
During the ceremony, Rep. Rush Holt (D-12th Dist.) announced he and Sen. Frank Lautenberg (D-N.J.) reintroduced legislation in Congress today that would require colleges to have anti-harassment policies. The Tyler Clementi Higher Education Anti-Harassment Act was first introduced shortly after Clementi's death, but did not gain enough support to become law.
Holt said the legislation would make grants available to help colleges find creative ways to battle bullying and help students in Clementi's memory.
You can donate to help fund the center at The Tyler Clementi Foundation website.
Watch ABC7's report on the announcement, AFTER THE JUMP…
(via david mixner)