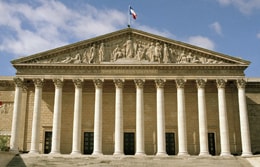 France's lower house of parliament has approved a broad bill to legalize same-sex marriage and allow gay couples to adopt children in a 329-229 vote.
The AP reports:
President Francois Hollande's Socialists have pushed the measure through the National Assembly and put France on track to join about a dozen, mostly European nations that grant marriage and adoption rights to homosexuals.
The measure, approved in a 329-to-229 vote Tuesday, comes despite an array of demonstrations in recent weeks by opponents of the "marriage for all" bill. Polls show most French support legalizing gay marriage, though that backing softens when children come into play.
The measure now moves to the Senate.
Developing…