The body of Marco McMillian, a Clarksdale, mayoral candidate the Victory Fund describes as "one of the 1st viable openly #LGBT candidates in Mississippi" has been found near a highway, according to the Press Register: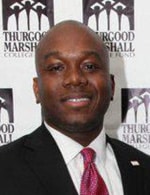 The Press Register has received a reliable report, unconfirmed by the Coahoma County Sheriff's Office, that at approximately 8:45 a.m., Wednesday, the body of mayoral candidate Marco McMillian was found by the levee off Highway 1.
There is no word yet on the cause of death.
County and state emergency and law enforcement personnel had been searching for McMillian, 34, since another man, who is currently at The Med in Memphis, drove his car into another vehicle.
According to a press release by the Coahoma County Sheriff's Office, at around 8:30 a.m. on Tuesday, McMillian's vehicle (a dark-colored, full-sized SUV – aTahoe or Yukon), was involved in a head on collision on Highway 49 near the county border of Tallahatchie and Coahoma counties.
Will Rooker, a spokesperson for the sheriff's office, said he didn't know how the collision happened and as far as he knew, the sheriff's office hasn't assigned anyone blame in the accident. The driver of McMillian's vehicle was injured and was airlifted to the MED in Memphis and, as of Wednesday morning, he remains there. The other driver was treated at a local hospital and was released.