Earlier this week I reported on some remarks by sports columnist Mike Florio indicating that NFL recruiters at this year's Combine were interested in finding out whether or not Notre Dame linebacker, Manti Te'o is gay.
The interest presumably stems from questions surrounding Te'o and the fake girlfriend hoax.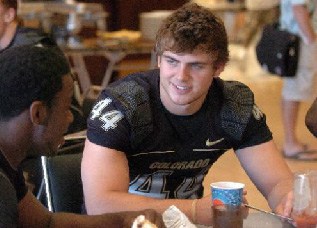 However, Te'o is reportedly not the only player to be asked about his sexuality, the HuffPost reports:
NFL prospect Nick Kasa was asked by scouts about his sexual orientation at the NFL Combine, the tight end said in a radio interview on Tuesday.
Kasa, a senior at the University of Colorado, is one of a few hundred players who participated this week in the NFL Scouting Combine, an annual showcase for NFL prospects in advance of April's draft. Over the course of the Combine, participants submit themselves for a variety of physical and mental tests, as well as interviews with NFL teams. According to Kasa, it was during these interviews that the topic of his sexual preferences came up.
"[Teams] ask you like, 'Do you have a girlfriend?' Are you married?' Do you like girls?'" Kasa told CJ and Kreckman of ESPN Radio Denver on Tuesday. "Those kinds of things, and you know it was just kind of weird. But they would ask you with a straight face, and it's a pretty weird experience altogether."
UPDATE: In remarks regarding this report, NFL spokesman Greg Aiello told Outsports the league is investigating:
"Like all employers, our teams are expected to follow applicable federal, state and local employment laws. It is league policy to neither consider nor inquire about sexual orientation in the hiring process. In addition, there are specific protections in our collective bargaining agreement with the players that prohibit discrimination against any player, including on the basis of sexual orientation. We will look into the report on the questioning of Nick Kasa at the Scouting Combine. Any team or employee that inquires about impermissible subjects or makes an employment decision based on such factors is subject to league discipline."