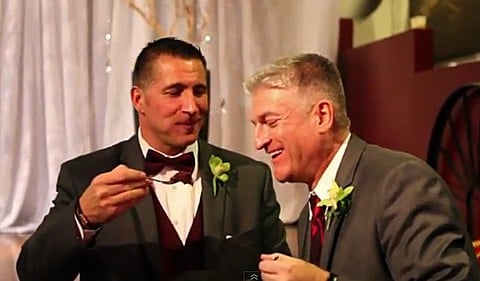 Randy and Allen were married in Rochester, New York in December after being together for 16 1/2 years, surrounded by their family and friends. They were married by the judge who helped them adopt both their sons (below).
The pen that is shown in the video is the same one that Andrew Cuomo used to sign marriage equality into law in New York state. One of their state legislators got the pen after Cuomo signed it into law, and they were able to use it.
Congrats guys!
Watch, AFTER THE JUMP…
And if you missed yesterday's Valentine's round-up of our favorite gay wedding videos, check it out HERE.
Don't miss our other recent Gay Wedding videos…
Gay Wedding Video of the Day: Jason and Tony at the Plaza [tlrd]
Gay Wedding Video of the Day: Clinton and Callum [tlrd]
Gay Wedding Video of the Day: Bloomington, Indiana Mayor and 13 Same-Sex Couples [tlrd]
Gay Wedding Video of the Day: Andrew and Rob [tlrd]
Gay Wedding Video of the Day: Tony and Kevin [tlrd]