Once again, CPAC is blooming with new ideas: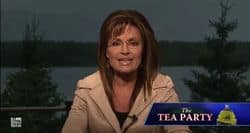 The American Conservative Union, which runs CPAC, one of the oldest and largest yearly gatherings of conservative leaders and activists from across the country, announced Monday that the former Alaska governor and 2008 GOP vice presidential nominee, who recently parted ways as a paid on-air analyst for Fox News, will address the conference.
"We are pleased to again welcome Governor Sarah Palin to CPAC in March," said ACU Chairman Al Cardenas. "Governor Palin electrified the crowd in 2012 and we are thrilled to welcome her back this year."