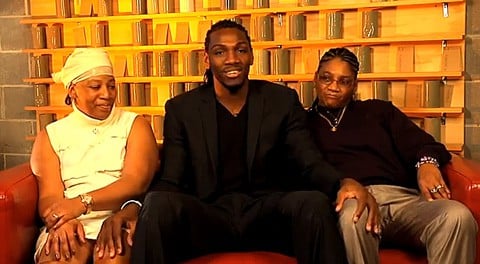 Denver Nuggets star Kenneth Faried has joined the group Athlete Ally as an ambassador, making him the first player in the NBA to join an LGBT rights support organization. Athlete Ally combats homophobia in sports.
Faried appeared in a video in late January with his two moms for One Colorado, urging lawmakers to pass a civil union bill there.
The HuffPost reports:
"Becoming an Athlete Ally gives me the opportunity to spread a message of inclusiveness throughout the NBA and our country," said Faried in a statement to The Huffington Post, referring to the non-profit group that advocates for gay rights in sports. "I have two moms and I love them both very much. I respect, honor and support them in every way. The bond I have with them has made me realize that I want all members of the LGBT community — whether they are parents, players, coaches or fans — to feel welcome in the NBA and in all of our communities."
As a member of Athlete Ally, Faried joins Brendon Ayanbadejo of the Baltimore Ravens, Chris Kluwe of the Minnesota Vikings, Scott Fujita of the Cleveland Browns, Connor Barwin of the Houston Texans, as well as professional international sports stars and college players.
Said Athlete Ally Executive Director Hudson Taylor: "In the last month, we have seen seven professional athletes around the world align with Athlete Ally. As Kenneth joins 4 NFL players, including a Super Bowl champ, a pro rugby player and an Australian Rules Football star, he is bringing our movement to a new level.  Kenneth is standing out not only as an incredible talent, but as an incredible ally. We are thrilled to have him on board and grateful to the NBA for its continued leadership."
Watch Faried's video for One Colorado, AFTER THE JUMP…