Staunch conservative Marilyn Musgrave is denying a report by the NYT that she signed a SCOTUS brief being filed by Republican leaders opposing Proposition 8, KDVR reports: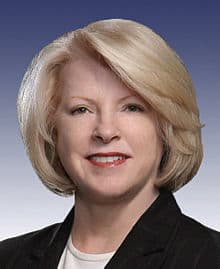 "I'm very befuddled by this story," Musgrave told FOX31 Denver. "There's absolutely no truth to that. I'm reading it thinking, 'what in the world?' I wasn't even aware of it. I have not changed my position. I'm trying to imagine where anyone would get that information and I can't figure it out."
Wrote the NYT in its report:
The list of Republicans on the brief now tallies more than 100, organizers say. It now includes Beth Myers, who ran Mr. Romney's 2008 campaign and was a senior adviser to him in 2012, and Marilyn Musgrave, a retired Colorado congresswoman who was once rated the most conservative member of the House by the American Conservative Union.
Ms. Musgrave, who lost her bid for a fourth term in 2008, was an unsuccessful sponsor of a constitutional amendment to bar same-sex couples from marrying; she once warned that if gay couples were allowed to wed, "the next step is polygamy or group marriage."
KDVR adds:
Musgrave's former district director, former state Rep. B.J. Nikkel, has signed the brief.
Nikkel, who did not run for reelection last year after her seat was re-drawn, became the first Republican to vote in favor of a civil unions bill last May and has become a strong advocate for LGBT rights.
On the eve of the committee hearing last May when Nikkel ultimately voted to support the bill, Musgrave left her a long voicemail message pleading with her to vote against it.
UPDATE: NYT issues correction.
An earlier version of this story incorrectly stated that former Representative Marilyn Musgrave, Republican of Colorado, had signed on to the brief. The brief was signed by her former district director, for himself.