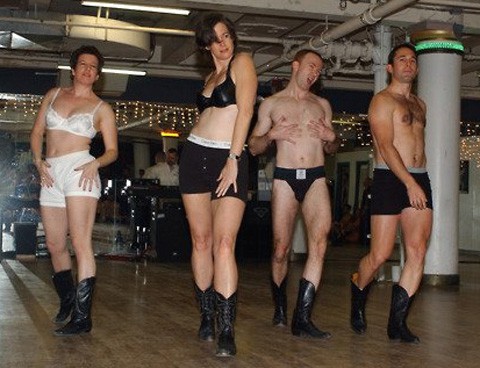 Montana GOP State Senator Jason Priest (above, right) is being denounced for the "highest form of hypocrisy" by the blog Montana Street Fighter, which asks what a lawmaker with a dismal record on LGBT rights is doing performing with a gay comedy troupe.
Most Montanans became familiar with Priest's abhorrent homophobia when he posted offensive slurs on Facebook.  While running for the Senate, Priest referred to economist John Keynes as "a big homo" and said that Democrats were giving Americans "the dry thumb."…
…During the last legislative session, Senator Priest earned a 13% on the Montana Human Rights Network's legislative scorecard.  Priest supported legislation that was aimed specifically at protecting bigots while limiting LGBT rights.
More recently, as Montana Street Fighter reported, Priest helped pass a motion aimed at gutting Planned Parenthood of Montana.  Planned Parenthood is one of the only affordable health care centers that provides hormonal treatments for transgender clients.  In addition to providing essential services to the transgender community, Planned Parenthood offers health education, resources, and service referrals to the entire LGBT community.
But apparently Priest has no trouble strutting his stuff with a gay comedy troupe called The Manhattan Prairie Dogs, the site continues:
On Sunday evening, Priest left a lengthy comment here on Montana Street Fighter.  The bulk of his comment did not address his attempts to defund Planned Parenthood and similar organizations.  Instead, Priest proclaimed that he was not a homophobe.
It's safe to assume that Priest was responding to a photo of him posing with other members of a gay comedy troupe called the Manhattan Prairie Dogs.
Priest claims that he's not a homophobe because he is "friends with gay people."  That is the equivalent of saying, "I'm not racist – I have black friends."