BY NAVEEN KUMAR
In his
grounded and witty solo show All The Rage,
which opened Wednesday Off-Broadway at the Peter J. Sharp theatre,
writer-performer Martin Moran charts out his investigative search for two
things: his dormant inner rage and a decisive, satisfying path toward leading a
meaningful life. Easy, right?
The first certainly
seems like it should be easy work for Moran, whose 2005 memoir and play of the
same name The Tricky Part, details
his struggle toward recovery from the sexual abuse he experienced when he was
seduced as a child by his camp counselor. How could he not be angry? As he recounts, it was a review of his memoir asking the
same question that set him down this path.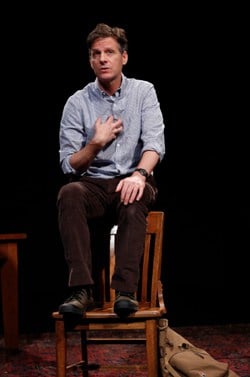 Moran's
emotionally insightful writing and comfortable, easy delivery save the show from sliding into clichés that can be pitfalls of solo performance. Directed with economy
and ingenuity by Seth Barrish (Sleepwalk
With Me), Rage registers neither
as a drawn out stand-up routine or self-indulgent navel-gazing, but an honest
emotional narrative that's both engaging and thought provoking.
Moran's investigation takes shape as a sort of topographic
mission, rather than chronologically. He begins anecdotes by pointing out places on a desk globe, sticking
magnets on a blackboard-mounted New York City subway map, and occasionally
projecting slides as visual aides.  
Set in a
sparsely rendered classroom of sorts (designed by Mark Wendand), it's a
circuitous lesson, not without its fair share of non-sequiturs. Yet, the
threads Moran follows through his stories are emotional rather than logical.
They lead from a curious confrontation with his stepmother after his father's
funeral to a tour of 'The Cradle of Human Kind' in South Africa, from trotting
around the stage clacking together coconuts as Sir Robin in Monty Python's Spamalot on Broadway to hiking
with his stoic younger brother (who has enough bottled rage to fill them both) in the mountains of Colorado.
While
Moran's quick leaps in time and place can feel dizzying at times, his emotional
through-line remains mostly clear. Moran's touching account of his unlikely
friendship with a Sudanese refugee seeking asylum in the US, for whom he serves
as a French interpreter, becomes the show's emotional anchor. Through his
experience as a mouthpiece for an innocent man—tortured and indefinitely
separated from his family, yet not bereft of hope or forgiveness—Moran develops
a broader, more expansive perspective on his own emotional inquiry.
As a writer
Moran excels at conjuring vivid visual detail and resonant truths with simple, slight turns of phrase. Such captivating moments come and go with ease,
flowing one into the next as his story swiftly unfolds. If their culmination
doesn't quite lead to a neatly cohesive final resolution, it's because life doesn't work like that either. Progress comes in the
accumulation of sudden, jarring flashes of insight, many of which Moran shares here.
All The
Rage continues performances Off Broadway at the Peter J. Sharp Theatre through
February 24th.
Recent theatre features…
Ben Rimalower Is Working Through His 'Patti Issues' At The Duplex: INTERVIEW
'Picnic' Starring Sebastian Stan Opens on Broadway: REVIEW
'The Other Place' Starring Laurie Metcalf Opens On Broadway: REVIEW
Rob Ashford Takes on 'Cat On A Hot Tin Roof' on Broadway: INTERVIEW
Pulitzer Prize Winner 'Water By The Spoonful' Opens Off-Broadway: REVIEW
Follow
Naveen Kumar on Twitter: @Mr_NaveenKumar.