Thirty-seven U.S. Senators led by Jeff Merkley (pictured) have sent a letter to President Obama urging him to issue an executive order protecting LGBT people from employment discrimination, the Washington Post's Plum Line reports.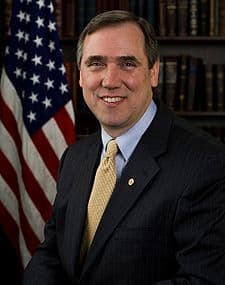 Read the letter HERE.
Reads the letter, in part:
[Y]ou are in a position to protect millions of American workers immediately by including sexual orientation and gender identity alongside long-standing anti-discrimination protections.
As you know, ENDA would prohibit most workplaces in the United States from discriminating against potential and existing employees on the basis of their sexual orientation or gender identity. From our perspective, ENDA's premise is simple: it would make federal law reflect the basic principle that Americans should be judged on their skills and abilities in the workplace, and not on irrelevant factors such as their sexual orientation or gender identity.
The letter is signed by Merkley, Tom Harkin, Patty Murray, Christopher Coons, Jeanne Shaheen, Mazie Hirono, Sheldon Whitehouse, Richard Blumenthal, Ron Wyden, Patrick Leahy, Barbara Boxer, Tom Udall, Al Franken, Dianne Feinstein, Claire Mccaskill, Tammy Baldwin, Martin Heinrich, Kirsten Gillibrand, Carl Levin, Elizabeth Warren, Frank Lautenberg, Amy Klobuchar, Barbara Mikulski, Sherrod Brown, William Cowan, Mark Udall, Richard Durbin, Bernard Sanders, Charles Schumer, Brian Schatz, Mark Begich, Mark Warner, Debbie Stabenow, Benjamin Cardin, Jack Reed, Robert Casey, and Robert Menendez.
Harkin, the Chair of the Senate Health, Education, Labor, and Pensions (HELP) Committee, promised during remarks this week at an event at the Center for American Progress that the Employment Non-Discrimination Act (ENDA) will "move this year."
Obama historically has favored the legislative process over issuing executive orders, but pressure has been growing around this issue.