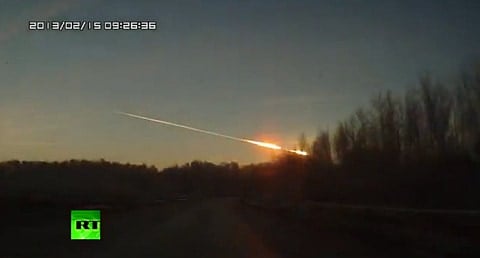 Bright objects reported to be meteors captured on dozens of CCTV cameras rained down over central Russia today and more than 500 have been injured by explosions caused by the space objects, Reuters reports: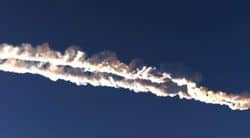 People heading to work in Chelyabinsk heard what sounded like an explosion, saw a bright light and then felt a shockwave according to a Reuters correspondent in the industrial city 1,500 km (950 miles) east of Moscow.
A fireball blazed across the horizon, leaving a long white trail in its wake which could be seen as far as 200 km (125 miles) away in Yekaterinburg. Car alarms went off, windows shattered and mobile phone networks were interrupted.
Most of the people were injured due to breaking glass, the NYT adds. The Guardian has an F.A.Q.
Watch the insane videos, AFTER THE JUMP…