More than 100 lawmakers and former GOP leaders have now signed on to the Republican SCOTUS brief opposing Proposition 8, the NYT reports: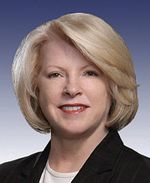 The list of Republicans on the brief now tallies more 100, organizers say. It now includes Beth Myers, who ran Mr. Romney's 2008 campaign and was a senior adviser to him in 2012, and Marilyn Musgrave, a retired Colorado congresswoman who was once rated the most conservative member of the House by the American Conservative Union.
Ms. Musgrave, who lost her bid for a fourth term in 2008, was an unsuccessful sponsor of a constitutional amendment to bar same-sex couples from marrying; she once warned that if gay couples were allowed to wed, "the next step is polygamy or group marriage."
Will update with a list if/when available. The brief is scheduled to be filed by Thursday.