Another wrinkle in the discussion around San Francisco 49ers and gays unfolded yesterday as two players, linebacker Ahmad Brooks and nose tackle Isaac Sopoaga, were being questioned by reporters about Chris Culliver's anti-gay remarks.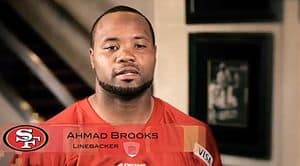 Because Brooks and Sopoaga participated in the 49ers 'It Gets Better' video last year, reporters figured they would have an interesting perspective on the story, but a new controversy arose when Brooks and Sopoaga both denied participating in the video, and then, when they were shown it, said they never knew it had anything to do with gays, and then appeared to want to distance themselves from it.
At first, Brooks and Sopoaga, approached by USA TODAY Sports, denied being part of the project.
"I didn't make any video," Brooks said. "This is America and if someone wants to be gay, they can be gay. It's their right. But I didn't make any video."
When told USA TODAY Sports had seen the video and he was in it, Brooks replied, "I don't remember that. I think if I made a video, I'd remember it." He was shown the video on an iPhone.
"Oh, that. It was an anti-bullying video, not a gay (rights) video," he said.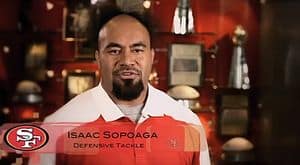 When told that studies show that the majority of teens who are bullied are harassed over sexual identity issues, Brooks thought for a second. "I know that. I know that," he said. "Okay, you're right and I'm wrong. Are you from one of those New York newspapers?"
Unfortunately, someone apparently forgot to deliver the message to the players that this was a video that supported gay rights.
Sopoaga, too, denied making the video, even while teammate Will Tukuafu, who overheard the question, tried to refresh his memory. "Yeah, you made that video, remember?" Tukuafu said.
"No," Sopoaga said. "I never went. And now someone is using my name." Sopoaga was shown the video. "What was that for?" he asked.
To ask teens to stop bullying other teens because of sexual identity, he was told.
"Yeah, OK," he said. Would you like to comment on it, he was asked. "No," he said.
Multiple players wanted to be in the video, USA Today adds, but only the most intimidating players were chosen.
Dan Savage tweeted last night: "We've removed the #49ers #ItGetsBetter video from our website. #homophobia #NFL #horsesh*t"
Watch the video, AFTER THE JUMP…