Former NYC Mayor Ed Koch has died, the NY Post is reporting: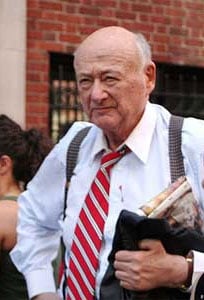 Koch had been in and out of the hospital in recent months, and was admitted Monday at New York Presbyterian Medical Center. He was moved to intensive care yesterday as his condition worsened. Koch – who served as mayor from 1978 to 1989 – died at about 2 a.m. today, sources said.
The three-term mayor and former congressman was first elected to City Hall in 1977. Since leaving elected office, he has worked as a lawyer and remained an active presence on the city's political scene. He also appeared as the judge on the TV show "The People's Court" for two years.
From the NYT obit:
By the usual standards of measuring a former mayor's legacy — the city he inherited, the challenges he faced, the resources available to meet those challenges and the extent to which his work endured beyond his term — historians and political experts generally give Mr. Koch mixed-to-good reviews.
Most important, he is credited with leading the city government back from near bankruptcy in the 1970s to prosperity in the 1980s. He also began one of the city's most ambitious housing programs, which continued after he left office and eventually built or rehabilitated more than 200,000 housing units, revitalizing once-forlorn neighborhoods.
Politically, Mr. Koch's move to the right of center was seen as a betrayal by some old liberal friends, but it gained him the middle class and three terms in City Hall. He was also the harbinger of a transformation in the way mayors are elected in New York, with candidates relying less on the old coalition of labor unions, minority leaders and Democratic clubhouses and more on heavy campaign spending and television to make direct appeals to a more independent-minded electorate.
A lifelong bachelor, the former mayor had said it's unacceptable for people to ask if he's gay since the 70's, when placards surfaced in his mayoral race against Mario Cuomo that said "Vote for Cuomo, not the homo!"
At the time of the Cuomo allegations, Koch said: "No, I am not a homosexual. If I were a homosexual, I would hope I would have the courage to say so. What's cruel is that you are forcing me to say I am not a homosexual. This means you are putting homosexuals down. I don't want to do that."
Koch also expressed anger a year ago at how he was portrayed in Kirby Dick's film Outrage, which outed closeted politicians — not because the film said he's gay (which it did), but because he said the film defiled his record (the film claims his record on AIDS and gay rights was virtually nonexistent).
Said Koch to Page 6: "It's a [bleep]ing outrage. Bella Abzug and I, in the early '70s, introduced in Congress a bill that would outlaw discrimination based on sexual orientation…And when we later said the law applied to contractors doing business with the city, the Catholic Church and the Salvation Army sued me. In 1984, I was the first mayor to march in the Gay Pride Parade. I was the first mayor to appoint openly gay judges."
Late last year, Koch took the time to review How to Survive a Plague, but was blasted by AIDS activists featured in the film for not mentioning his own failed response to the AIDS crisis.
As part of the campaign to legalize same-sex marriage in New York in 2011, Koch recorded a video in support of New Yorkers for Marriage Equality.
Koch was 88.