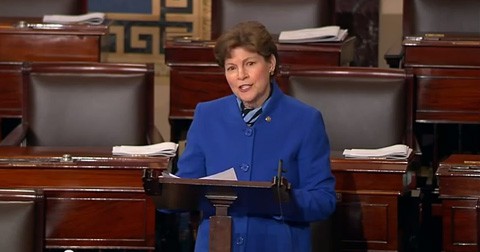 Sen. Jeanne Shaheen (D-N.H.) honored Charlie Morgan, the lesbian guardsman and LGBT activist who died last week from breast cancer just one day before the Pentagon announced that it would extend limited partner benefits to gay troops and their families, something she had been fighting for for months. Unfortunately, since the benefits are not retroactive, Morgan's family will not receive them.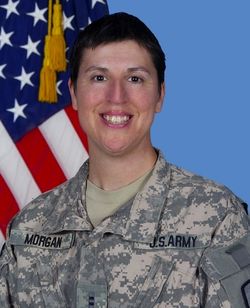 Said Shaheen, who got choked up during her speech: "I hope that Charlie Morgan knew how many lives she touched and how greatly we admired her efforts. I know that she will be sorely missed, and that her example will continue to guide us well into the future."
Shaheen said she met Morgan in 2011 when she contacted the senator's office upon her return from Kuwait. Morgan received notification that her spouse would be unable to attend a transition program known as National Guard Yellow Ribbon Reintegration. The senator said she worked with Defense Secretary Leon Panetta to ensure Morgan's family could participate…
…Concluding her speech, Shaheen announced that she would soon introduce a bill she called the Charlie Morgan Act, which she said would end a number of restrictions of benefits for legal spouses for service members, regardless of sexual orientation.
Watch, AFTER THE JUMP…